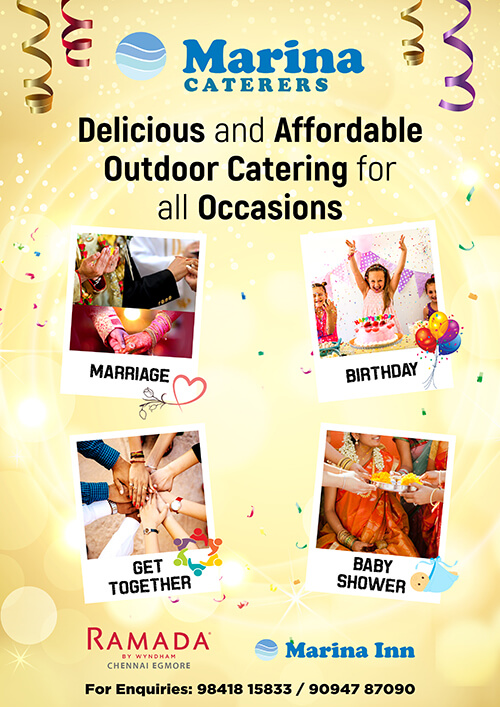 MARINA CATERERS – Impressive selection for any occasion.
Marina Caterers in Chennai. Caterers For all special occasion with Address, Contact Number, Photos, Maps. View Marina Caterers, Chennai on Justdial.
Location and Overview:
Established in the year 2004, Marina Caterers in Egmore, Chennai is a top player in the category Catering Services. This well-known establishment acts as a one-stop destination servicing customers both local and from other parts of Chennai. The belief that customer satisfaction is as important as our products and services has helped us attract a vast base of customers, which continues to grow by the day. In Chennai, our establishment occupies a prominent location in Egmore. It is an effortless task in commuting to our establishment as there are various modes of transport readily available. We are located at Gandhi Irwin Road, Near Ponniamman Koil, which makes it easy for first-time visitors in locating us.
Products and Services offered
Having an experience in the field for more than a decade, we ensure that the quality, quantity and service are excellent. Whatever the occasion, our staff would assist you from the start to the end. In addition to an assortment of the finest food and beverages, a knowledgeable and experienced staff, Marina Caterers boasts a wide selection of menu which can be customized based on your occasion and preference. Your dedicated catering planner will work with you to design the best menu which will reflect your own personal tastes and preferences. We are confident we can deliver all of these services while staying within your desired catering budget. In the near future, we aim to expand our line of products and services and cater to a larger client base.
The staff will be ready to assist with any queries or questions that you may have and are functional from 10am to 8pm every day. Pay for the product or service with ease by using any of the available modes of payment, such as Cash, Credit Card, Visa Card, Master Card.